Iga no Sato Mokumoku Tezukuri Farm / Tourist Information
"Produce by Ourselves, Process by Ourselves, and Provide by Ourselves."
Iga no Sato Mokumoku Tezukuri Farm (aka Mokumoku Farm) is an AGRICULTURAL THEME PARK located in Iga, where is famous for the birthplace of Ninja. There are several studios and factories in the 14-hectar farm. Visitors can enjoy shopping while observing the process of making fresh products.

We produce many kind of agricultural products. And we manage restaurants and stores on-site and on the internet by ourselves. We are challenging a new style of agriculture that aims to advance current agriculture to industry as well as food education, not only by growing of products, but also taking action on the process and the sales of our products.

We produce rice, fruits, soy beans, mushrooms, strawberries, and more. We make fresh products at our Sausage/Ham factory, bakery, sweets bakery, Japanese sweets bakery, brewery, tofu factory, jersey milk factory, roast pork factory, and sausage specialty shop. There is also a market selling vegetables, fruits, and rice grown on our farm and locally grown vegetables and flowers.

Original Hams and Sausages, Craft Beer, Dairy Products
Hams and sausages, made with safe pork grown in Mie prefecture, has won many gold medals at meat product contest in Germany. It is well received by customers for its high-level quality.
Our beer, made from locally grown barley, also has won many awards at the World Beer Cup.
Fresh milk from Mokumoku Jersey Farm is made into pudding, cake, gelato, and yogurt and these safe and quality products are very popular.
Food-Educational Experiences and Activities
Since we promote food education, we offer hands-on experiences that are very popular among our visitors, which include Handmade sausage, strawberry picking, mushroom picking, pony back riding for children, and free activities, such as cow milking. Within the farm, pigs are freely running around and visitors can enjoy petting them. Also popular is daily mini pig shows. Agricultural classes are held every day at the animal petting learning place.
Classes and activities offered are on handmade sausages, stone oven bread baking, pork steam bun making, ice cream making, strawberry picking, strawberry mocha making, and more.

Enjoying Foods and Dishes made from our Products
On our farm, through multiple fun experiences we help cultivate visitors' sensibility towards farm, agriculture, and the environment. Three restaurants serve fresh foods, where you can enjoy more than 60 different foods at the buffet under grape vines. There is also a Japanese restaurant, a soba noodle restaurant, and a barbecue house. Enjoy our handmade beer that has won the gold medal at World Beer Cup, the world beer brewing contest.
Staying in the Cottage-style Accomodations
At our cottage-style accommodations, visitors will learn agriculture in various facilities that offer green tourism.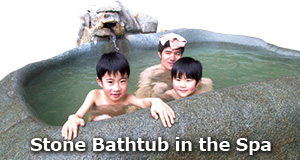 Relaxing at the Hot Spa (Onsen)
You can also relax in an onsen spa that comes from a hot spring 1000 m under the ground.
Proposal for an Agricultural Lifestyle
We also have rental gardens for those who has interest in growing vegetables themselves. We encourage people to have a lifestyle that respects the environment, body, and mind through a self-produced ecological farm.
Our Locations
Google Map: Mokumoku Tezukuri Farm

Iga no Sato Mokumoku Tezukuri Farm
Agricultural Theme Park
Address: 3609 Nishi-Yubune, Iga City, Mie Prefecture 518-1392 JAPAN
Phone: (+81) 595 43 0909 / Fax: (+81) 595 43 2100
Access by Car: 8 minutes from Mibuno Interchange ( Meihan Expressway ) / 15 minutes from Konan Interchange (Shin-Meishin Expressway)
Access by Public Transportation: You can take a taxi from Tsuge station (JR Kusatsu/Kansai Line) or from Ueno-shi Station (Iga Railway Line).
Nougakusha
Rental Vegetable Garden
Address: 12048 Yono-Yahara, Iga City, Mie Prefecture 518-1152 JAPAN
Phone: (+81) 595 39 9898 / Fax: (+81) 595 39 9098
Access by Car: 5 minutes from Ueno Interchange ( Meihan Expressway )

Copyright © MOKUMOKU